"Annual party celebrates horse's birthday" featured in the Rocky Mount Telegram
Posted by A Chance in the Country in News on May 19, 2013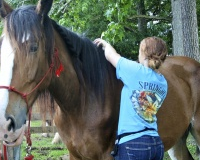 CASTALIA – Rain didn't dampen the spirits of partygoers who gathered to celebrate Chance the Clydesdale's seventh birthday on May 19.
The annual celebration attracted nearly 200 people to ROMA's Clydesdale Farm in Castalia.
Chloe Scott, an 8-year-old riding student at ROMA's Clydesdale Farm, attended for the second year.
"We have so much fun every year," Scott said. "My favorite part is bouncing on the inflatables and eating watermelon."
Children enjoyed the obstacle course, inflatable slide and bounce house and carnival games. Visitors of all ages lined up to ride horses, including two brought to the event by friends of the farm and two resident Clydesdales.
The party didn't stop when the rain started, just after the crowd sang "Happy Birthday" to Chance. People feasted on funnel cake, strawberries, hoop cheese and other goodies under shelter as kids played in the barns or chased each other in the rain.
"I was pleasantly surprised to see all the activities and food that were provided at Chance's birthday party," said Jeannie Bennett of Spring Hope. "It is a great opportunity for families to be able to interact with such beautiful animals."
"This year was extra special, because in November we almost lost Chance," said Robin Freeman, Chance's co-owner. "He had emergency surgery at N.C. State (University), and it has taken him a long time to recover."
When he was 3 months old, Chance was diagnosed with a birth defect in his intestines. After his first surgery was unsuccessful, veterinary surgeons tried an experimental surgery, cautioning his owners Robin and Maggie Freeman that he had just a 30 percent chance of survival.
"We knew he was named Chance for a reason," Robin Freeman said, "so we decided to take the chance that he would survive."
That surgery was followed by another several months later. Both were successful. The surgery in November was his fourth and was complicated by his previous health problems.
Chance's annual birthday party began as a celebration of his survival for those who had followed his story. Over the years, the event has become a community celebration, with proceeds benefiting A Chance in the Country, the nonprofit organization established by the Freemans and inspired by Chance's survival. A Chance in the Country provides opportunities for children to experience rural life, promotes responsible horse ownership and provides scholarships for children with disabilities to participate in the riding lesson program and attend horse camps.
http://www.rockymounttelegram.com/community/hometown/annual-party-celebrates-horse8217s-birthday-2059813