Grant to help nonprofit group provide riding lessons
Posted by A Chance in the Country in News on Dec 27, 2013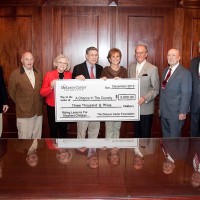 "The nonprofit organization A Chance in the Country recently received a $3,000 grant from the DeLeon Carter Foundation to provide riding lessons to children with disabilities.
"We are a recreational riding barn, so we focus on helping our riders develop physical riding skills at their own pace while mostly enjoying the ride," said Robin Freemen, director of A Chance in the Country. "We also work on developing other skills during the lessons, such as empathy, goal setting, and patience."
The Castalia-based A Chance in the Country was inspired by the life of ROMA's First Chance of Hope – Chance – a Clydesdale born with a birth defect that led to three high-risk surgeries during his first year of life. The organization was founded in 2009 with a mission to promote responsible horse ownership among potential horse owners through hands-on education, to offer underprivileged youth hands-on experience in the care of horses and to expose children and youth to the country and farming way of life.
"This grant will allow children with special physical or developmental challenges to participate in the riding program. Chance's story is a reminder that hope starts with a chance to try, and all of us – especially the children and their families – are grateful that the DeLeon Carter Foundation is providing that chance," Freeman said"
–http://www.rockymounttelegram.com/community/hometown/grant-help-nonprofit-group-provide-riding-lessons-2241813